GripAble Home
Caring for somebody who has suffered a stroke, or somebody who is living with hand or upper limb difficulties can make you feel helpless at times if the recovery journey is difficult. But rehabilitation and support is out there, for both you and your loved one.
Gripable Home enables you to support your partner, family member or friend with personalised training, all in the comfort of their own surroundings. From increasing grip strength and introducing mobility after loss of movement, to sensory retraining and stroke recovery, Gripable Home provides stroke and injury sufferers, and their carers, access to personalised rehab with additional support available from their medical professional through sharing activity reports and in-app communications.
Easy to use, lightweight and with on-hand support available for both the user and their carer, why not try Gripable Home today?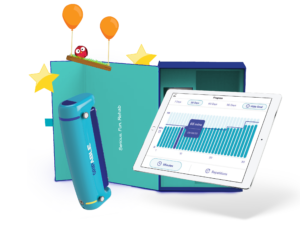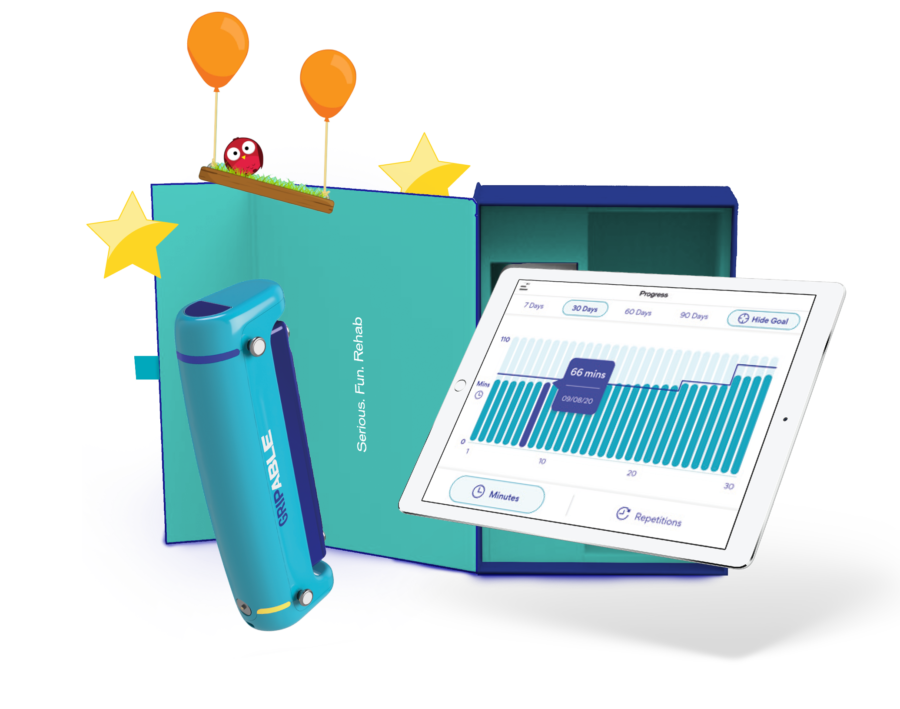 Measurable, mobile and motivating training for the hand and upper limb.
The handheld GripAble device connects to an app on a tablet, where you can follow engaging training activities – or simply count your reps – with a focus on different aspects of grip, hand and wrist movement. Through these fun and engaging activities, GripAble aims to help people stay motivated with their rehab activities.
Your therapist can set you personalised training programmes and you can see real-time feedback, as well as sharing your daily activity reports with your therapist.
Based on intuitive, fuss-free technology, you can get set up in minutes – and our friendly team is available for support throughout the process.
Highlights
Personalised training programmmes and goals
Track your activity and count your reps
Portable, lightweight and mobile
Share training activity with your therapist
Buying options
You can buy a GripAble Home outright for £417 + VAT or you can rent a device for £59 + VAT per month. 
Simply fill in the form below to get started.
Please note that if you are registered disabled then you are VAT exempt when purchasing this product.
If for some reason you find out GripAble Home isn't for you, returning a device is free and easy.
Delivery / Set – up
Your GripAble Home is dispatched with premium courier service meaning your device is with you within 72 hours of ordering.
Our product specialists and care team are there right from the start with a 1:1 set-up Zoom call and expert help available throughout your time with GripAble.
We also provide our GripAble explained series of videos that helps you not only set-up but get the best out of the device and app. View our how-to videos here. 
Please fill in the form below to buy or rent a GripAble Home device
What to expect when your GripAble arrives
FAQs
How do I know if GripAble will be suitable for me?
The device can be used by the majority of individuals with impaired upper limb movement but we always recommend assessment by a therapist at the outset.  If you don't have a therapist, our clinical team can put you in touch with a therapist who can assess you and identify if you can use GripAble.
What hand and wrist movements does GripAble assess and train?
GripAble assesses:
Grip strength
Release of grip
Wrist extension and flexion
Wrist radial and ulnar deviation
Pronation and supination
Can GripAble be used by someone with very limited hand movement?
GripAble is sensitive to 0.1kg which enables flickers of movement to be detected. Users have reported that GripAble has shown they have movement where they thought they had none. The minimum and maximum strengths recordable are 0.3kg to 90kg.
Data protection
How do you use my data?
Please refer to our Privacy Policy to understand how we use your data.
Where is my data stored?
Please refer to our Privacy Policy for more information on where your data is stored.