Multi-player comes to GripAble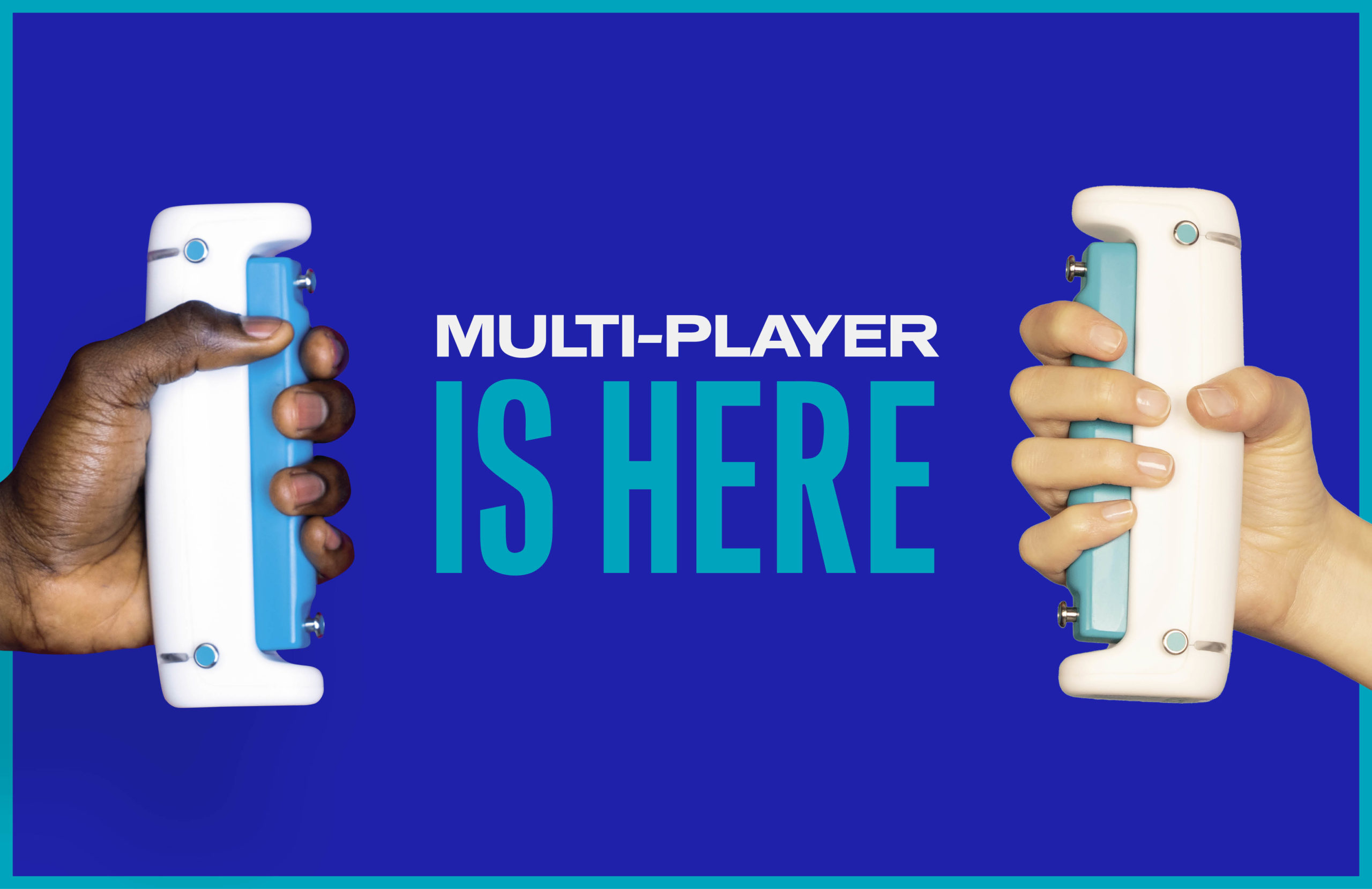 Read about the latest enhancements to GripAble in May 2021
Our latest software update has just been released and we're excited to share with you the latest developments and enhancements!
GripAble users will find two new activities, Little Rocket and Four in a Row – our first multi-player game. We've also added a 'rep counter' for people who want to track their hand and upper limb training activity rather than play the activities.
If you use a range of the grip tests available in GripAble, you'll also be pleased to know that this latest software update makes it much easier to switch between grip tests via the app's main menu.
Not got a GripAble yet? Request a free trial by filling in the form on our contact page – or email us at hello@gripable.co.
New activity: Little Rocket – 'a souped-up Spaceshooter'!
Fans of the Spaceshooter activity on the GripAble app will welcome this latest addition to the activities available.
In this activity, you navigate right and left across the screen avoiding being hit. As each level progresses, the enemy ships become more complex. There are 20 levels plus an arcade level. Arcade level is continuous so each time you play, you can try to improve your score. Stay playing until you lose all your lives.
Little Rocket encourages range of movement through pronation and supination.
Click the image below for the Little Rocket explainer video (34 seconds).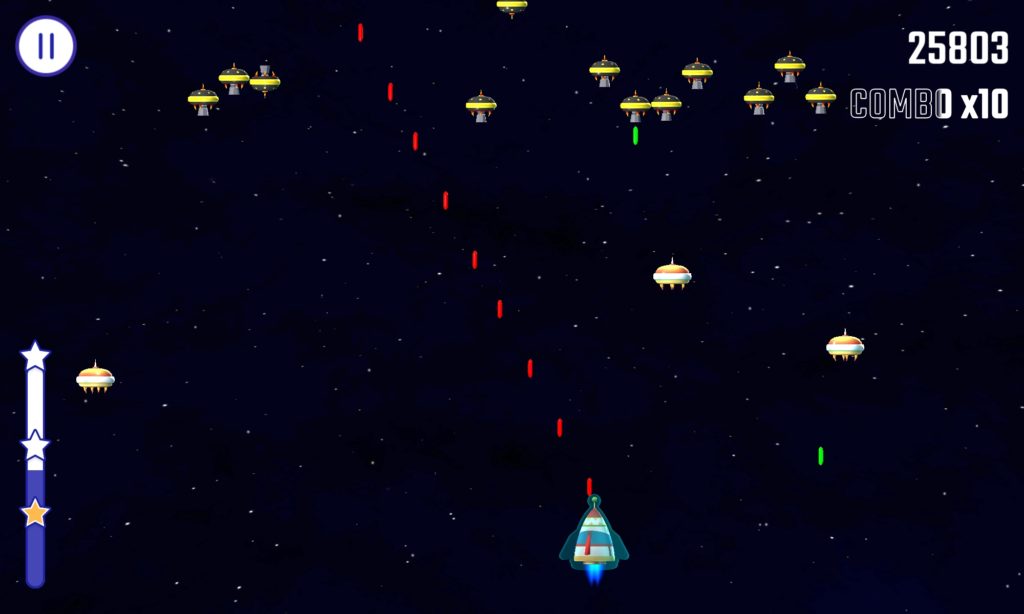 Our first multi-player activity – welcome to Four in a Row
This is the classic four in a row activity where two players compete to drop four counters in a row vertically, horizontally or diagonally.
Four in a Row is our first multi-player activity, allowing you to connect and train with other GripAble users from around the world. Working with others has been proven to increase training – with Four in a Row you can bring some fun (and healthy competition) to your daily hand and upper limb training!
Four-in-a-row focuses on pronation / supination plus grip and release.
Click the image below for the Four in a Row explainer video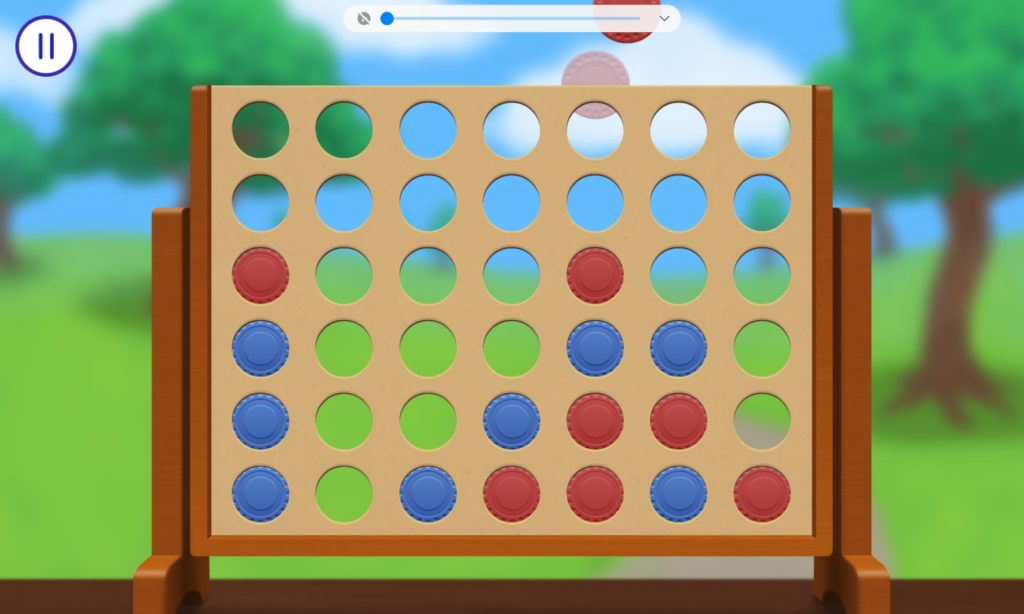 Easily switch between grip tests
If you regularly use the different grip tests in your GripAble app, you will be pleased with the work our software team have done here! The grip tests are now all available from the main menu, making it super easy to switch between grip tests during a training session. Simply go to the main menu to select the grip test you'd like to use.
New addition: Rep Counter – track your upper limb training
Rep counter can be used independently with grip and release and all three movements: pronation / supination, extension/flexion and ulnar/radial deviation. Use rep counter with or without sound and count your movements.
Rep counter is designed for users who simply want to track their hand and arm training without needing to play the activities.
To learn more about the enhancements to your GripAble or to request a free trial, please contact our friendly team.
About GripAble
GripAble is a two-in-one assessment and training device to help people with weakened hands and arms. Mobile, portable and lightweight, the handheld device connects, via WiFi or Bluetooth, to an app on a tablet, where the user can play fun and engaging activities.
GripAble tracks four key hand movements – grip / release, wrist extension / flexion, radial / ulnar deviation and pronation / supination; repetitions, and minutes of training. The device is highly sensitive and can be used by most people, even those with limited grip or movement.  Easy to set up, GripAble can be calibrated and personalised to each user's ability.
Physical rehabilitation is critical to restoring quality of life after stroke and many other neurological, orthopaedic and paediatric conditions, and studies show that the more repetition and strength training a person performs, the greater their chance of restoring movement and, ultimately, their independence.  GripAble enables your therapist to set regular goals and provides day by day feedback to help build motivation and engagement with training activities.
GripAble is based on intuitive, fuss-free technology so you can get set up in minutes.
To request a trial or purchase a GripAble please do get in touch.