Need a little help migrating your account?
With the introduction of the GripAble app on the public Google Play Store, it is important that users migrate their data in order to keep their progress and continue getting improved functionality. By doing this, you will now have access to two new activities, Ghost Hunters and On the Button! We're here to guide you through the process.
Please note that you have 1 hour to complete the migration process before your migration token expires.
Step-by-step instructions
1. Copy the token code.
When you are presented with the copy token screen, please copy the token code by tapping on the "copy token" button. You will know this is done as the button will now say "Copied token".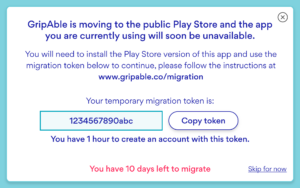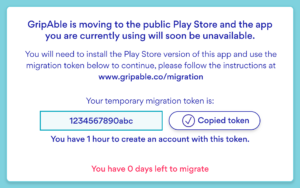 The 'copy token' button will change to "Copied token" once pressed.
2. Download the Public Play Store version of the GripAble app.
Next you need to download the Public Play Store version of the app. Please be aware before downloading this, you will need to either create a Google account or log in to an existing one. If you need help with this you can click here. 
3. Download the GripAble app and open it on your tablet.
4. Continue with the migration.
You will now be presented with the new app home screen. Press the "continue with migration token" button.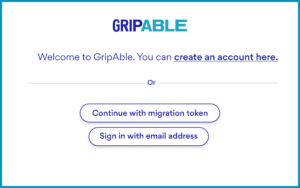 The GripAble app's public Play Store home screen.
5. Enter the token details and complete the migration
Paste the token on the next screen by clicking "paste migration token from clipboard".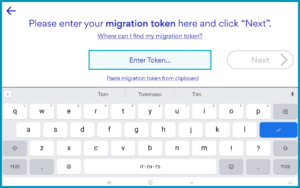 6. Enter your email and create your password
Now you can enter the email address you would like your GripAble account to be associated with and create your password, then you're good to go!
FAQS
Why do I need to migrate?
So that when you create your new account you will still have access to all your data.  If you decide not to migrate, this data will not be associated with the new account.
How long do I have to migrate?
You have 1 hour to use your migration token before it expires. If this happens, you can simply go back into the private Play Store version of the app, get a new token and try again. Please note, from the commencing of the countdown in-app you have 30 days to migrate from the private Play Store app before the app is no longer functional.
Do I have to use the migration process in order to use the new public Play Store GripAble app?
No, the migration process is only used so users keep their data when migrating over to the new app.
Will GripAble be able to access all my contacts stored on my tablet?
No, we only need this permission so that we can see the email address associated with your current GripAble account and so it can be transferred to your new one on the public Play Store.
Will I have access to new activities by downloading the public Play Store app?
Yes! You will have access to two brand-new activities, On the Button and Ghost Hunters.
Where can I get help if I need it?
You can talk to your usual GripAble contact, send an email to [email protected], or call us on 0207 661 4018 and we'll be on hand to help.
Need more of a human touch?
Our customer team is always happy to help.
Please call us on:
UK: +44 0207 661 4018
US: +1 406-318-7892
or email: [email protected]