GripAble is delighted to be supporting Different Strokes.
We are dedicated to helping stroke survivors access affordable and engaging rehabilitation to help on their journey to restoring upper limb movement.  From being able to pick up a glass of water (or a glass of wine..), tie your hair back, put your socks on and, of course, hug your children and loved ones, physical rehabilitation is critical to restoring quality of life after stroke.
Studies show that the more repetition and strength training a person performs, the greater their chance of restoring movement and, ultimately, their independence.  Yet a lot of rehab tools and therapies are either inaccessible and too expensive or, at the other end of the scale, unmotivating and unmeasurable.  And this makes motivation hard to maintain when hundreds of repetitions are needed every day.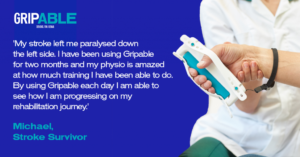 GripAble has the key to unlocking motivation
GripAble's unique handgrip connects to a mobile app, with specifically designed activities to train core hand and arm movements in a fun and engaging way, either with a therapist or remotely – something that has proved to be invaluable during lockdown, with thousands of users training regularly with their GripAble device.
GripAble enables your therapist to plan a programme for you, setting regular goals, and provides day by day feedback.
Based on intuitive, fuss-free technology, you can get set up in minutes – and our friendly team can have a GripAble despatched to you in just 24 hours.
Try before you buy – request a free trial
To find out more about GripAble and to request a one month trial, please get in touch.
This short explainer video shows how GripAble provides an engaging and fun way of tackling rehabilitation goals – as stroke survivor and GripAble ambassador Kate Allatt explains in the film: "I was desperate to be back home after my stroke. I would have loved to have had a GripAble – it's tech that you can access, and it's affordable."