Surviving stroke: the transition from hospital to home
After a life-changing event such as a stroke or the onset of most neurological, orthopaedic/MSK and paediatric conditions, physical rehabilitation is key to people restoring their quality of life.
In the hospital setting, individuals should receive gold standard rehab treatment required to allow them to be discharged. But upon returning home, they are faced with the harsh reality of, largely, learning to look after themselves and the challenges that come with it, along with readjusting to maintain central aspects of their lives before their stroke, such as relationships, finances, careers and other responsibilities.
Here at GripAble, we are privileged to have the valuable insights and perspective of someone who has been on this very journey as our Ambassador. After suffering a rare brain stem stroke at the age of 39, Kate Allatt went on to develop locked-in syndrome. Doctors said she'd never walk, talk or be able to use her arms again, but she defied all predictions and walked out of hospital.
For Kate, however, the hard work didn't end there and continuing her rehab process from home brought a whole host of new challenges for her to face.
In this blog, Kate describes these challenges, the things that helped her to restore her independence and shares useful resources available to stroke survivors to help them be the best version of themselves, emotionally, mentally and physically.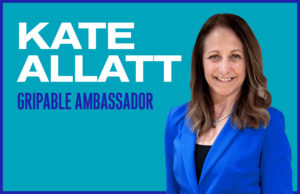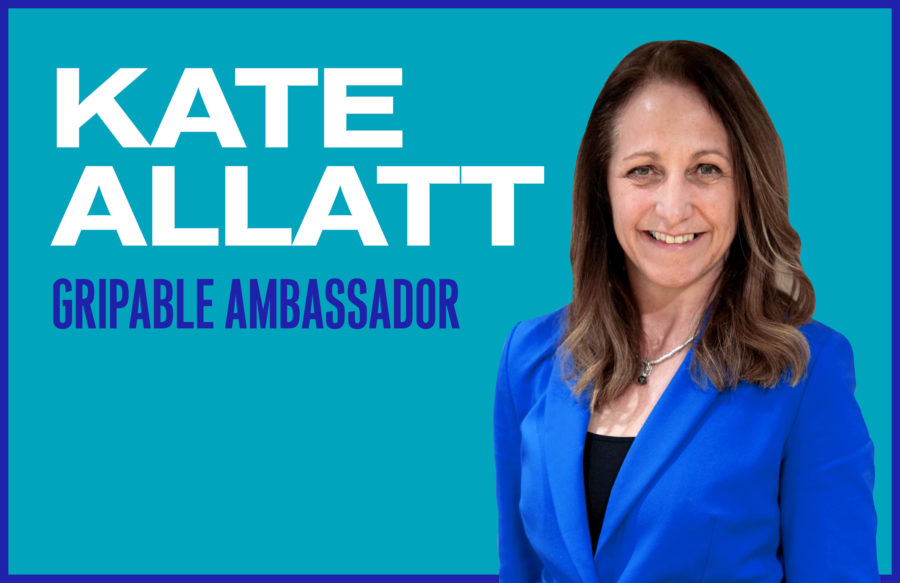 Adjusting to life at home
Towards the end of my 11-month hospital stay, I was feeling relatively fit and well, and felt in some sense that I had come through the stroke and its after-effects. Truthfully, I was just waiting to be discharged so I could be with my children again.
Walking out of hospital after previously being paralysed and in a medically induced coma felt like a huge victory but once I arrived home, I was faced with the reality of my situation and what I had lost as a result of my stroke. Though I was no longer in the hospital setting that my family were so used to seeing me in, I still wasn't well, and it was difficult to slot back into the life I had lived before, as well as seeing loved ones continue with their own lives, when I was still doubly incontinent, relied on a frame to walk and had PTSD and hallucinations from the whole experience.
This emotional distress was heightened by the loss of purpose, confidence and self-esteem I felt due to the dramatic way in which my stroke had impacted on my life. I remember feeling shocked by the lack of information and resources available to stroke survivors – of course, I received helpful medical advice regarding my physical rehab, but where was the support to help people navigate their personal, professional, financial and intimate lives? How could I keep up my relationships and friendships with others, as well as my ability to parent my children, after such a life-altering event had occurred?
Not only this, but my family lacked the guidance and support they needed on what to expect from me after my stroke, for example, the behavioural changes I was likely to experience such as mood swings, agitation and feelings of loneliness, as well as the long-term physical and cognitive problems, which can include memory loss, confusion, difficulty processing information and poor judgement.
A heart-breaking moment for me was overhearing my son, who was eight at the time, saying to his dad: "mum's back, but not as she was."
I realised that my children were also broken by the experience of not having me there for the last 11 months and seeing the way I was now. I tried my best to help my children by seeking the help of child psychologists, but in order to receive help, people must be willing to accept it, which my young children, like many others their age, found difficult.
My attempts to search for helpful information and guidance online about locked-in syndrome, the condition I had developed as a result of my stroke, were sadly futile at the time. I also found that a lot of the advice and guidance available to stroke survivors was aimed at older people – alarming when over a third of the 100,000 people who have a stroke each year are under 60-year-olds. I soon discovered some closed groups for stroke survivors on social media but found them to be quite negative and unhelpful spaces, and not somewhere I felt I could safely share my personal issues and story.
Getting back on track with stroke recovery
I realised that for stroke survivors to make the best recovery possible, support from and connection with peers who truly understand them and the challenges they face is crucial. There also needed to be an acknowledgement of the fact all stroke survivors are different, with different experiences, issues and aims for the future. This led me to set up Fighting Strokes – a worldwide advocacy charity that raises awareness of stroke recovery, informs caregivers and health professionals working with stroke survivors, and provides support for family and friends of stroke survivors, as well as practical patient support.
Something which helped me further on down the line was simply injecting some fun back into my life again. In my opinion, stroke survivors need rehab exercises that are simple, fun and ultimately don't feel like rehab. Repetition is also key – studies show that the more repetition and strength training a person performs, the greater their chance of restoring movement.
In hospital, rehab provided opportunities for one-to-one engagement with trained nurses and therapists, which made doing rehab on my own at home all the more disheartening.
But rehab exercises and equipment – like GripAble – that provide fun activities and show you how you are doing from home can put joy back into the mundane and restore some of the self-esteem that can be diminished with brain injury.
With a renewed focus on what I most wanted to achieve from my rehab and recovery process, which was to be able to hug my children and tell them I loved them again, I was able to take control of my own recovery from home. I was also introduced to a personal trainer, who believed in me and what mattered to me, and played an important part in helping me to adjust to this new version of myself. He worked as hard as I did to restore my confidence, and against all odds, even managed to help me run just one year after my stroke.
Moving forward
After a stroke or any other life-changing medical event, people deserve to have access to the right resources, opportunities and equipment that can help them be the very best they can be. It also makes complete business and economic sense to improve the transition from hospital to home – with access to better support as they go through this process, people would feel much less isolated and traumatised.
Better patient outcomes equate to greater cost savings with reduced use of prescription drugs like antidepressants, fewer GP appointment and emergency hospital visits and less reliance on NHS care and resources, as well as enabling people to get back into work in some form or another.
As GripAble ambassador, I am pleased to be working with GripAble on a number of initiatives to enhance physical, emotional and mental support. Our 'Stroke Buddy' campaign will include regular live coaching webchats, live Twitter chats, social media groups and forums for peer mentoring and support from other stroke survivors.
For more information, message me on Twitter @KateAllatt and follow @GripAble_Rehab on Twitter and Instagram for updates.
Useful resources for stroke survivors, their families and caregivers: